VWCG.com
Aug 22
10 Things Every Marketer Should Know About A/B Testing
WordStream Scores a Spot on the Inc. 5000!
#SearchMarketing http://bit.ly/1tyJXq9
Online Marketing News: Pinterest and 3rd Party Rules, Mobile Is Only Part Of The Key, Facebook Still Runs Traffic
http://bit.ly/1tyk1uG #Marketing
Customer Journey Maps - Whiteboard Friday
How does push compare to email?
Aug 21
4 Simple eCommerce Product Page Tests That Take Less Than an Hour
The Secret Ingredient for Winning the Customer Service Battle in E-commerce
Finding Innovation Through Design Thinking
Recently, I came across a concept presented by U.S. businessman and author Tim Ogilvie centered on "design thinking" — how to turn abstract ideas into practical applications to maximize business growth. Since the core of portfolio management centers on identifying the right opportunities through strategic alignment, innovation and transformation, this concept seems to apply to our job as portfolio managers.
Of course, this is easier said than done, and although innovation is typically defined as a "breakthrough," it is actually accomplished through trial-and-error experimentation and old-fashioned hard work and perseverance. I think of innovation as "fail fast, fail often," but more accurately as "recover even quicker." 
Mr. Ogilvie asks some key questions, to which I've added my own thoughts on how they apply to portfolio management in identifying the right innovative projects or programs in a systematic way:
* What IS? This covers more than the current state — it assesses what's happening with competitors, the industry, adjacent industries and opportunities. What ideas exist? What new products or markets can be created?  
* What IF? What are key possibilities? If something could change, what would that be? Through deep consumer insight, voice of the customer and a systematic process, options can be identified, assessed and prioritized. Careful oversight is needed at this stage, since viable options don't happen by accident.
* What WOWS? What is fundamentally different than what's been done before? How is it better? Sometimes, an innovation is not necessarily something new, but something that brings an idea together perfectly. For example, the iPhone was not the first smartphone, but many have adopted it as the best. Innovation can be combining or recombining capabilities at a different level than before, not necessarily introducing new capabilities.  
* What WORKS? Ideas may look good on paper or in a presentation but may work differently when translated into a market test or actual use. Through small experiments and investments, the "fail fast, fail often" mantra should prove what's viable. Failing doesn't mean the end. Experiments that fail are sometimes the precursors to a breakthrough, if learnings are applied.
Innovation Model Canvas
The Innovation Canvas and its eight key components is another way to find and sell innovation. You can easily put this on a one-page document or even the back of the napkin to concisely describe to executive sponsors why a project or program changes the way the organization does business. If you can only partially fill out the grid, then the project may require more development. You may even want to do two versions — one for the current state and another for the future state:


What methods do you use to spot innovation in your projects and programs?  http://bit.ly/1pi2szP
Parking Is Hell: A Freakonomics Radio Rebroadcast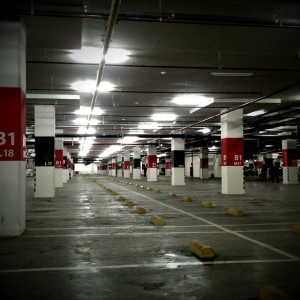 (Photo: @gueamu)
This week's podcast is a rebroadcast of our episode  "Parking Is Hell." (You can subscribe at iTunes, get the RSS feed, or listen via the media player above. You can also read the transcript; it includes credits for the music you'll hear in the episode.)
The episode begins with Stephen Dubner talking to parking guru Donald Shoup, a professor of urban planning at UCLA and author of the landmark book The High Cost of Free Parking
. In a famous Times op-ed, Shoup argued that as much as one-third of urban congestion is caused by people cruising for curb parking. Michael Manville, a city planning professor at Cornell, and co-author Jonathan Williams found that in Los Angeles, "at any given time almost 40 percent of vehicles parked at meters are both not paying and not breaking any laws."
You'll also hear from MIT professor Eran Ben-Joseph, whose book ReThinking a Lot: The Design and Culture of Parking
offers solutions to improve the parking lot. He gives us a sense of how many surface parking spaces there are in the U.S. (close to 800 million) and points out that in some cities, parking lots cover a full third of the land area downtown. http://bit.ly/1ttY687
Why Recent College Grads Should Consider a Career in PPC
#SearchMarketing http://bit.ly/1phLDoF
Lessons on Marketing Strategy and Content Marketing ROI – Michael Brenner Interview
http://bit.ly/1tttweB #Marketing
Google Webmaster Tools Just Got a Lot More Important for Link Discovery and Cleanup
How solving for identity can fix mobile measurement
Aug 20
Customer Testimonials: How to Put Your Customers to Work for You
Master of Finance Program enters sixth year
New students arrive in Cambridge to begin study.
http://bit.ly/1pfMOVI #Management