VWCG.com
Mar 10
Democracy: Should We Bother?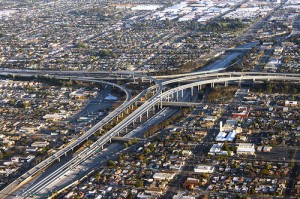 (Photo: Prayitno)
What could be less controversial than the principle that the public should be consulted about transportation policy? In future posts, I'm going to write about why puppy dogs are despicable and why we should all root for the Miami Heat, but for today I'm going to question this seemingly unquestionable proposition.
There is good reason that one of modern transportation planning's most fundamental precepts is that the public should be consulted on policies large and small, from constructing a new subway line to changing a humble bus schedule. This is the product of very real abuses, particularly during the creation of the Interstate Highway System. At that time, government had virtual carte blanche to displace residents and bulldoze neighborhoods. For example, for Los Angeles's Harbor Freeway in the late 1940s, the condemnation resolution for the right-of-way was approved by the court the day after it was filed by the state. The following day, every piece of property along the route was posted with a fifteen day notice to vacate. And less than three weeks after the filing of the condemnation resolution, the Division of Highways began clearing the property.
The apparently sensible response to this arbitrary exercise of authority has been the rise of public power and participation, which is something of a mantra among transportation planners. But while this is great in principle, there are some severe problems in practice.
The first is actually getting the public interested. Here in Greenville, S.C., for example, public hearings about the long-range planning of the transportation system, which is presumably of considerable import, often attract attendees who can be counted on the fingers of one hand, despite herculean efforts to drum up interest. In such a situation, a handful of people who may have turned out because that night's episode of Real Housewives of New Jersey was a rerun may have an outsized voice in making policy.
Meetings about near-term, specific programs often don't have this problem—in fact, they are sometimes swamped with eager attendees. However, this raises another problem: a small number of committed citizens can, and often do, stymie projects that would have very great benefits for the public at large.
I say stymie projects, as opposed to promote them, because this is typically what happens. Economists have long noted that people are generally highly averse to change, no matter what that change is. They also hate losing much more than they enjoy gaining. Most people vastly prefer to avoid losing ten dollars than to get ten dollars, despite the fact that they are the exact same thing.
People are also quite imaginative. So public officials who want to do anything at all are often bombarded with apocalyptic charges that a change to the transportation system, no matter how minor, will jam residential streets with a sea of traffic, result in cars parked on front lawns, generate earsplitting noise, block out the sun, invite armies of miscreants and criminals into the neighborhood, and result in boils, locusts, frogs, and slaying of the neighborhood's firstborn. In contrast to the hyperbole about the costs, the potential benefits receive scant attention, even when the residents who are complaining would be the biggest beneficiaries of the accessibility the project will generate.
Of course, the benefits of such projects may be large, even gigantic, in the case of things like freeways, subway lines, or port or airport expansions. Literally hundreds of millions of travelers might save money and/or time. Even those who do not use the facilities benefit due to economic growth, wealth, and jobs for the entire region. The problem is that few of those future travelers or residents of the region are going to turn out at public meetings or bombard legislators with emails and calls, because the benefits, though widespread, are hard to conceptualize. How can anybody be expected to be able to understand and calculate, let alone get out and campaign for, potential savings on airline tickets or more convenient connections a decade in the future? The main voices representing the interests of those travelers are the airlines, but it is easy enough for opponents to dismiss them as greedy capitalists. (This they certainly are, but for the most part the only way they can satisfy their greed is to serve the public interest, a fact that few critics of the evils of the profit motive ever consider.)
For the relatively small number of airport neighbors, however, the costs—or at least the imagined costs—are great enough to prompt energetic lobbying. In turn, their elected representatives are willing to focus all of their efforts on blocking these projects, and are willing to horse-trade their votes on other issues to bring other legislators onboard.
In addition to political lobbying, another favorite tactic is recourse to the legal system. Of course, the ability of citizens to seek restitution for harm is one of the great strengths of our system of government, but as we all know, it can also be badly abused. I once heard a talk from an activist fighting the expansion of Los Angeles's ports, who boasted that her organization's immediate response to any such project was the filing of a lawsuit based on California's Environmental Quality Act. This person happily admitted that the actual merit of such suit was of little relevance, since even if it was ultimately unsuccessful it would have to be defended against, raising the project's cost and delaying it long enough for opponents to dream up other obstructionist tactics.
Contrast Los Angeles's Harbor Freeway experience with the building of the Century Freeway a few decades later. For the Century Freeway, acquiring and clearing the land for the right-of-way took 20 years. The project faced numerous lawsuits from residents and pressure groups, resulting in ten years of delay and costly litigation. The suits were eventually settled with a consent decree that resulted in costs ballooning to $250m/mile (today's dollars), well more than double what was initially forecast. For these reasons, the era of building urban freeways is basically over.
You may hate freeways, and consider this a success, and in some respects it is. But don't forget that this same principle will stymie other interventions that might be more to your liking. For example, for reasons that are entirely unclear to me, residents of Beverly Hills have long blocked making the curb lane on Wilshire Blvd. a bus lane during rush hours, despite the fact that this would ease the lives of transit riders, help to get Angelenos out of their cars, and reduce traffic on Wilshire, of which Beverly Hills residents themselves are the biggest victims.
Or maybe you simply don't like transportation. But few stop to consider the mammoth cost of a world with no highways or airports. Their benefits are utterly taken for granted by most people, who grouse only about the system's failings. Yet while I know of many passionate critics of the Interstates, I don't know a single one who doesn't travel on them. Past sacrifices were essential for today's prosperity, but thanks to the current gridlock, we ourselves are now unwilling to make such sacrifices for future generations.
There are certainly some modern-day examples of projects, like the Three Gorges Dam in China, which have had terrible environmental impacts and where the displaced residents (there were 1.24 million of them) should have had more of a voice. And okay, the solution here isn't amending the Constitution to permit autocratic rule by Robert Mugabe. But it would be nice if our press and elected officials occasionally reminded us of the admittedly vote-losing proposition that the price of living in a community is that sometimes we all must tolerate some discomfort for the benefit of the polity as a whole. Also, in addition to blaming the easy targets of self-interested neighbors, parochial interest groups, and craven elected officials, it might behoove us to take a look in the mirror. The situation where the interests of the few are trumping the interests of the many exists because the rest of us are too uninformed and apathetic to participate in the process in an educated and energetic manner. Public participation can work, but only if the public actually takes the trouble to participate. http://bit.ly/1ir8AQ4 #WorldConsultingGroup
Mar 07
Staying Off the Front Page: Complying with Legislation
Staying Off the Front Page: Complying with Legislation, ING http://bit.ly/1dB2zAd #WorldConsultingGroup
Does Breastfeeding Reduce Childhood Disability?
A new (gated) NBER paper looks at the relationship between breastfeeding and childhood disability.  The author, George Wehby, finds that a longer duration of breastfeeding is associated with a slightly lower risk of child disability:
Little is known about whether breastfeeding may prevent disabilities throughout childhood. We evaluate the effects of breastfeeding on child disability using data from the National Survey of Family Growth merged to the National Health Interview Survey for a large nationally representative sample of children aged 1 to 18 years from the U.S. including over 3,000 siblings who are discordant on breastfeeding status/duration. We focus on a mother fixed effect model that compares siblings in order to account for family-level unobservable confounders and employ multiple specifications including a dynamic model that accounts for disability status of the prior child. Breastfeeding the child for a longer duration is associated with a lower risk of child disability, by about 0.2 percentage-points per month of breastfeeding. This effect is only observed on the intensive margin among breastfed children, as any breastfeeding has no effect on the extensive margin. We conclude that very short breastfeeding durations are unlikely to have an effect on reducing disability risk. http://bit.ly/1ihyu8T #WorldConsultingGroup
Examining the trend toward precision medicine
Students and industry professionals gathered for the MIT Sloan BioInnovations Conference.
http://bit.ly/1igTNXW #Management #WorldConsultingGroup
Mar 06
The Relationship Between Hearing and Memory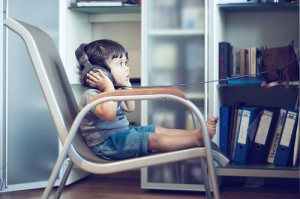 (Photo: Philippe Put)
We've blogged before about how easy it is to create false memories. A new psychology study explores which of our senses are generally more influential in imprinting memory. "As it turns out, there is merit to the Chinese proverb 'I hear, and I forget; I see, and I remember," says James Bigelow, a graduate student at the University of Iowa who is lead author of the study.
From Pacific Standard:
The study consisted of two experiments that focused on short-term memory. Participants were exposed to different pictures, sounds, and objects to touch (shielded from view), and then asked to distinguish each thing from a similar item or identify it among a larger group. Sometimes participants' memories were tested after only a matter of seconds, but in other instances the study stretched the time before recall to a day or even a week. While the accuracy of the participants' memories declined across the board as time went on, the accuracy of their auditory recall plummeted more rapidly than that of the the other two senses.
 …"We tend to think that the parts of our brain wired for memory are integrated," says Amy Poremba, one of the study's two authors, in a press release. "But our findings indicate our brain may use separate pathways to process information. Even more, our study suggests the brain may process auditory information differently than visual and tactile information, and alternative strategies—such as increased mental repetition—may be needed when trying to improve memory." http://bit.ly/1dvxldO #WorldConsultingGroup
Mar 05
From Silos to Systems: Challenges in Regionalizing Healthcare Services
Healthcare consolidation may offer strength in numbers – whether real or perceived – but it also creates a crowded clinical environment for systems that have acquired affiliates with overlapping services. Expanding reach and access to care are priorities of any health system; redundancies are not. As a result, systems are increasingly evaluating the distribution of services within designated markets and exploring strategies to regionalize care. The intent is to contain costs and optimize resource utilization while providing high-quality care in the most efficient manner possible. Eliminating duplicate services may seem an obvious choice. However, decisions to regionalize or close services are exceedingly complex due to the potentially volatile array of financial, operational, strategic, cultural, and political considerations involved. This Insight highlights the challenges that accompany service regionalization strategies and offers valuable guidance for systems in determining the extent of regionalization that may be appropriate and attainable in a given market. http://bit.ly/1dtdb4i #WorldConsultingGroup
Old-Fashioned Matchmaking as an Antidote to Modern Dating Dilemmas
We recently put out four Freakonomics Radio episodes that developed an arc of a theme: "Reasons to Not Be Ugly," "What You Don't Know About Online Dating," "Why Marry? (Part 1)" and "Why Marry? (Part 2)." These episodes prompted a lot of interesting listener/reader replies. Here is a particularly interesting one, from a woman we'll call R.:
I recently listened to your podcast on online dating and found it fascinating — not so much because of the economics of dating, but more how it contrasted and compared with the economics of the dating world I live in: the Orthodox Jewish semi-arranged marriages.
I grew up in upstate New York, in a village that is almost only Haredi Orthodox. The world I live in is sort of like Jane Austen, very marriage-oriented. Every girl (and boy for that matter) wants to get married, and does so in her early twenties. The systems at play to get everyone married off must fascinate an outsider. Out of my class of about sixty, about 95% got married within the first five years out of school. So far, only one girl is divorced. It's hard to quantify happiness in all these marriages but from what my friends tend to tell me, most seem very happy in their relationships. I know that the Orthodox Union has done research into the area. They collected a lot of data by surveying thousands of Orthodox couples, including Haredim, with in-depth online questionnaires. While I have not examined their data (and what a treasure trove that must be to an economist!) I think that this success in matching quickly, efficiently, and happily is due to changing the incentives you talk about in your podcast. The entire process seems to have been designed to reduce outer beauty from being the main incentive in a marriage market.
Instead of online profiles, we Orthodox Jews have been using the age old shadkhan (matchmaker) solution — namely, that a third party suggests a match to the two prospective parties. The incentive of the shadkhan is twofold: one is the great spiritual merit of bringing about a successful match and the other is monetary — they get gifted money for a successful match. The shadkhan has no incentive to limit his or her scope to the local community they live in. They can suggest boys or girls from all over the world. Similarity is seen as having to do with religious standards, not native-born culture.
Since the parents are involved in sorting through the suggested matches, their incentives are as important as their son's or daughter's. Men, as you note in the podcast, seem to go for the mean women just for their looks — but can you imagine what would happen if their mothers narrowed the dating fields for them? Not only are looks less important to parents, but since the information they receive usually contains only verbal descriptions of looks, they tend to look for qualities they want their child's spouse to have, like: maturity, stability, kindness, etc. For most people I know, the character of the girl or boy was the most important factor in a match. Parents want to see their child married to someone who will be kind, caring, and capable of unselfishly loving their son or daughter.
Unlike the rest of the world, a man's academic level can be really important to a woman and her parents, since studying in Jewish terms is really  held in high esteem. Most Haredi communities are built on the ideal of Torah scholarship, so many parents of girls seek out the greatest yeshiva student they can for their daughters. In this, the modern-day Haredi community is little different than the shtetl Jews of Europe: wealthy father-in-laws sometimes offer lifetime financial support to a budding scholar to marry his daughter. The scholar gains the ability to continue studying without worrying about finances, and the father-in-law gains the religious merit of Torah scholarship. 
The gathering of information precedes the couple meeting. Parents (and sometimes the prospective couple too) will make phone calls to friends of the suggested match, or to people they  know in common. The shadkhan provides these numbers. They then try to get as much knowledge about the suggested person. The positive traits of the match are considered, and many of the negatives are likewise discovered by this process.
It is only at this point, when everything seems perfect on paper, that the young man and woman meet. By the time they meet they are relatively confident that the person they are meeting comes from a family they are comfortable joining and is the right person for them on a personality level. Their meeting leaves only one question still open-ended: do the boy and girl actually like each other, find chemistry and attraction? The decision to marry a person is therefore made first with the head and only then is the heart allowed to play. The boy and girl then can date, depending on what the norm is in their community, anywhere from a few days to a few months. During that time, they date only in open public environments like parks, hotel lobbies, and restaurants — and they don't touch, so physical attraction can't get ahead of a solidly mindful decision of the intended's merits. This again is a buffer against making a choice of marriage based only on the physical. When they are each satisfied (or dissatisfied), they either get engaged or stop dating.
The system is no utopia. It solves many problems of the marriage and dating market, but the changed incentives create different ones. Men and women suffer very little from the heartache, breakups, and competition that dating in the long and unvetted manner usually cause. Women in particular are fortunate in this system, because their looks are not the first thing that is judged; it is one of the last. Inner qualities become much more important: "good," sweet, compassionate, kind-hearted girls, the ones who spite no one, tend to get more and "better" matches in the marriage market. Women also don't have to worry about men seeking short-term superficial relationships, because that is not an option. On the other hand, women suffer because statistically there seem to be more girls than boys in the Orthodox market today. There is also a higher demand for academically successful yeshiva students than are available. This makes it a man's world, with men having the ability to be pickier and women finding the need to compromise much more often. Men have the short end of the stick in other areas. Men who don't exceed scholastically are much less of a catch — though even there, there is another market for them, as there are girls who seek to marry boys who will work directly after marriage rather than studying (and thereby be potentially more financially successful).
There are also incentives at play that would affect a parent more than a child, namely the family situation of the suggested boy or girl. Parents tend to care more about what sort of family they are aligning themselves with. They might be drawn to suggestions in which the family is prestigious, have some great standing, or are financially well off. Any sort of unstable home also detracts from the match in parents' eyes, in a way that won't as easily bother a child. Divorced homes, as there are so few, are a considerable stain.
The Orthodox marriage market is hardly monolithic, so what I am writing here about Haredim is not the sole method. The more modern end of Orthodoxy is mostly like the rest of the American dating scene, except that marriage is its only intent. Regardless, it makes a fascinating comparison to the online dating matchmaking sites. It's really a much more economically balanced market, with so many more factors that affect supply and demand, than the online market. An attractive woman does not usually beat an unattractive one in offer volume or quality, nor does a wealthy man win over a poor one.
I hope you continue to produce such thought provoking material.
R. followed up with a further thought:
In your podcast, you have [[[LINK TO OYER'S BOOK ON AMAZON an economist]]] discuss how more information in the online dating market should, in the abstract, help people make better choices. I think the mistake there is equating quantity of information with the quality of the information. Is the fact that a guy writes that he likes whiskey and other funny incidental information, all written by the person themselves and thereby totally biased, really important? Even if the person wrote anything important, it is lost in the noise of irrelevant information, and this is not to mention that your podcast recommended writing white lies. In the Haredi marriage market, we not only have much more information before proceeding into any marriage, but it is high-quality information. We ask tons of friends, employers, and other people about the perspective match. Although most people tend to try to give mostly good information, a few prying questions will always reveal any major faults. With such high quality information, people are much better equipped to make much better decisions whether someone, with all their good, bad and in-betweens, is "right" for them before ever meeting them and losing their heart. http://bit.ly/1i8Raaw #WorldConsultingGroup
After the analytics revolution
At MIT Sloan Sports Analytics Conference, new ways to compete on the field and in the front office.
http://bit.ly/1i8BOCU #Management #WorldConsultingGroup
Mar 04
From Silos to Systems: Challenges in Regionalizing Healthcare Services
Healthcare consolidation may offer strength in numbers – whether real or perceived – but it also creates a crowded clinical environment for systems that have acquired affiliates with overlapping services. Expanding reach and access to care are priorities of any health system; redundancies are not. As a result, systems are increasing evaluating the distribution of services within designated markets and exploring strategies to regionalize care. The intent is to contain costs and optimize resource utilization while providing high-quality care in the most efficient manner possible. Eliminating duplicate services may seem an obvious choice. However, decisions to regionalize or close services are exceedingly complex due to the potentially volatile array of financial, operational, strategic, cultural, and political considerations involved. This Insight highlights the challenges which accompany service regionalization strategies and offers valuable guidance for systems in determining the extent of regionalization that may be appropriate and attainable in a given market. http://bit.ly/1i5MhiC #WorldConsultingGroup
The Non-Negotiables of Leadership
Project practitioners often get bogged down in the details of getting a project done at all costs. This can cause us to make decisions and take actions that we later regret, because they compromise our position as leaders within our organization. There are three leadership skills that we as project managers need to cultivate in ourselves and that should be non-negotiable, no matter how difficult the project.
1. Integrity: It is easy for a project manager to compromise and make decisions that are in the gray area between right and wrong. To be a strong project leader, it is important that you show character in your decision-making process. Even if compromising your principles makes the current project go more smoothly, in the long run you will lessen your effectiveness as a leader. And remember that your actions as a leader have a huge effect on your team — if you are willing to cut corners or compromise your decision-making, how can you expect any more from your team? Maintain your integrity by setting clear operating principles for your team at the start of the project and always acting within those principles throughout the course of the project, even if it is difficult. 
2. Adaptability: As project managers, we have really strong methodologies and standards that drive our planning, implementation and review processes. And sometimes, it's easy to allow those methodologies to hamper flexibility. To be a great leader, you have to be comfortable knowing the methodology and have faith in your understanding of the methodology and your decision-making process. At the same time, you need to be flexible enough to change with the dynamics of a project. These dynamics can play out as the project unfolds: when resources are limited after allocation; a sponsor or key stakeholder makes new demands; or even having to stop work on a project because it no longer fits into your organization's strategic goals. In these cases, rely on the solid plan that you developed earlier, but be willing and able to change or scrap that plan when it doesn't fit the new circumstances.  
3. Judgment: Project managers will spend the bulk of their time acting as communicators between sponsors, stakeholders and the team. With all of this communication comes a ton of information, and a project manager must have the confidence and judgment to act on or discard that information. Beyond communication, you'll make decisions that will affect not only all stakeholders, but also your business and your organization's overall performance. Two really important points here. First, you have to be patient because big decisions don't come every day and when they do, you have to be bold enough to take action. Second, you also have to work within your organization to garner the trust necessary to make decisions and, more importantly, to make mistakes along the way. The learning curve isn't a straight line, and you need the support of your sponsors and supervisors to get the necessary experience in decision-making. Because at the end of the day, that's what judgment is all about: experience. 
By making these skills the core of your personal leadership development process, you can make all other project decisions with the clarity and confidence you need to move your project toward a successful conclusion.
What are your must-have leadership skills?
Find out what other skills you can sharpen to help your organization succeed in PMI's 2014 Pulse of the Profession®. http://bit.ly/1dnb5ms #WorldConsultingGroup